Company:
Central Canada Utility
Machine Description:
Air-cooled Generator, 287.66 MVA, 21kV, 2-pole
Loose Blocking Revealed by Endwinding Vibration Monitoring
In June of 2012, an offline test was completed on a 21 kV air cooled turbine generator.  The impact data showed no critical natural frequencies near 120Hz.  In order to monitoring for future increases in end winding vibration over the offline baseline, Iris Power fiber optic endwinding vibration accelerometers were installed for periodic online monitoring.

Two years later in August 2014, periodic online measurement of endwinding vibration showed a step change in vibration that exceeded typical alert levels of 250μm or 10mils pk-pk based on IEEE 1129 guidelines.
Continuous Online Monitoring of Endwinding Vibration Used to Evaluate Blocking State Until Repairs During Next Major Outage
Due to this increase in vibration, an Iris Power continuous monitor was installed and connected to the fiber optic accelerometers in order to monitor the endwinding vibration levels until the next scheduled outage.
Online Endwinding Vibration Trend at 11:00 Bottom Jumper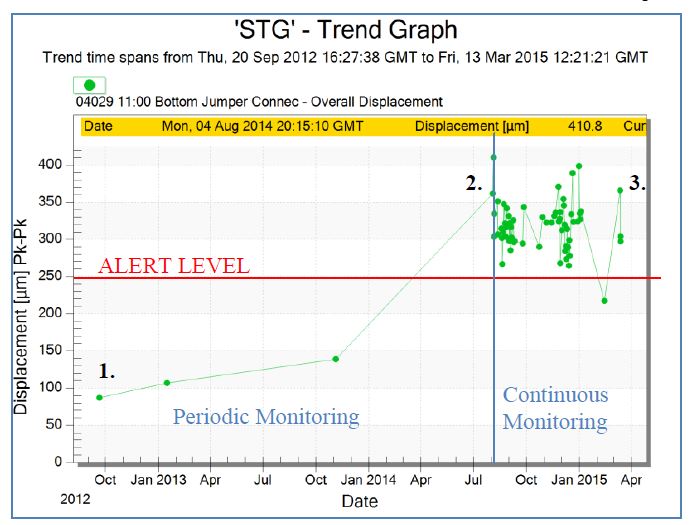 In March 2015, a isual inspection showed loose support blocks and dusting at multiple locations.  An offline impact test showed critical natural frequencies near 120Hz as high as 0.5m/s2/N or 0.2g/lb-F.  Continuous monitoring of the vibration levels continued until a longer outage could be taken to allow for permanent repairs to be completed.
Looseness and Dusting at 11:00 Support Block