Company:
Saudi Aramco
Machine Description:
Motor: 19,000 HP, 13.2 kV, 1800 RPM, Installed in 1979
Advanced Warning of In-Service Stator Failure Provided
The 13.2kV motor was equipped with 80pF epoxy mica capacitive couplers and associated monitor.  The Iris Power  instrument output a 2-D plot below that illustrated extensive partial discharge activity and high magnitudes up PD of up to 800mV.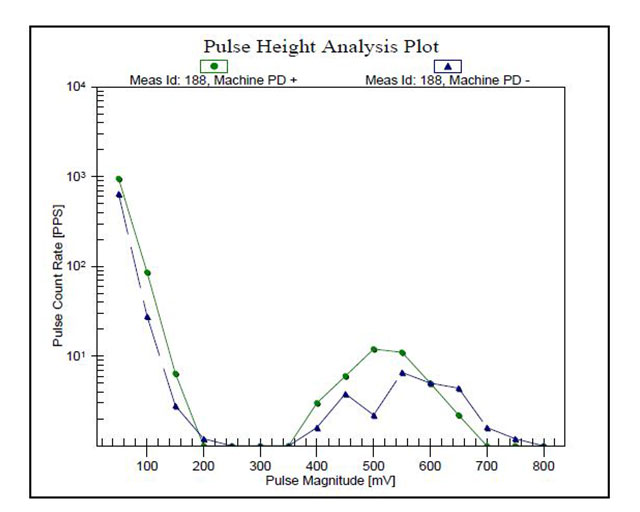 The 'hump' in the graph is indicative of activity in the endwinding area while the high magnitude was also indicative of conductive contamination in this area. Plant Operations was alerted to shut down the unit as soon as reasonably possible to inspect the endwindings of the motor.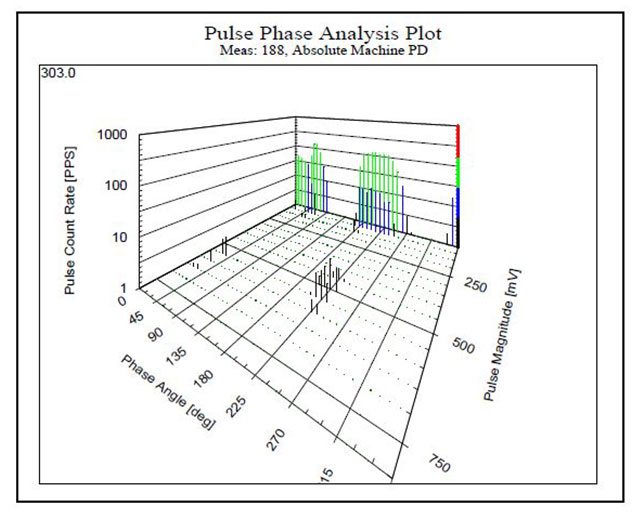 Forensic Analysis of the Failed Motor
Unfortunately, operational demands prevented the machine from being taken down for inspection and the stator winding failed during a start within a year.
Inspection of the failed motor revealed that the high partial discharge activities occurred at the coil connection-bracing ring. Close inspection showed the PD was due to the loose bracing of the endwindings. Inspection also indicated that the failed coil lifted at the edge of the core due to the electromagnetic forces due to the fault current. The rotor came in contact with the lifted coil, exposing the conductor and leading to a flashover.
Re-bracing the coils, cleaning the coils, and epoxy coating the endwindings would have ensured no coil movement and thus could have prevented this failure and extended the motor's life. Had the inspection been done when first suggested, these minor repairs might have been done with substantial repair and downtime cost savings.
Coil Shown with Severe Partial Discharge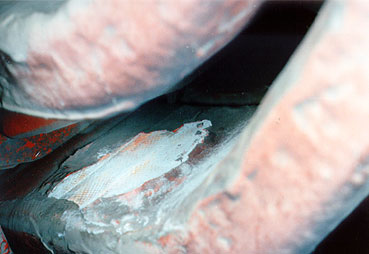 Reference:
O.M. Nasser, T.S. Al-Anizi, "Saudi Aramco Experience with PD On-Line Motor Monitoring Equipment", IRMC, June 1998.